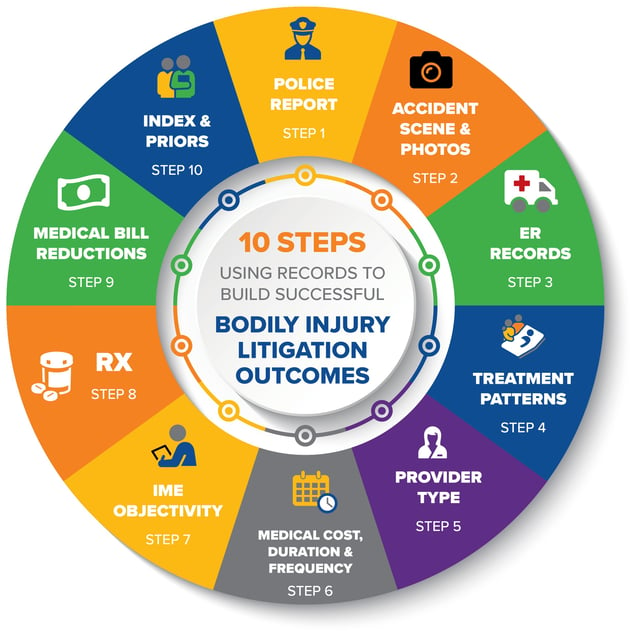 Determining the source of the injury is a critical part of litigating bodily injury claims.
Here is a comprehensive list of the different types of records obtained in Bodily Injury claims and how to use them effectively during litigation:
1. POLICE REPORT

While generally considered to be inadmissible in court, this document can be a treasure trove of information that will assist with the investigation. Was there any mention of an injury at the scene? Was the injured party transported to a medical facility? Was there any mention of contributing factors against the claimant? Were any witnesses identified? Did the police respond or was a counter report filed after the fact? Who is at fault for the accident? In looking at claims that are adjudicated, half of all claims involve facts pointing to shared liability.
2. THE ACCIDENT SCENE & PHOTOS

Are there any other potential tortfeasors? Overgrown bushes, signal outages, missing or blocked signage, absentee third parties and similar factors should always be investigated. Does the movement, as stated by the parties, correspond to what is being visualized? If a vehicle is involved do the photos match the damage? Are there paint transfers? A white car hitting a blue car will not leave a red paint transfer. What is the directional force of impact? Is the damage such that the injury being claimed may be related? In addition, point of impact plays a significant role in the assessment of comparative fault.
3. EMERGENCY ROOM RECORDS

What was said to the EMTs at the scene and during transport? What does the ER admission statement say? What type of pain was related to the treating physician? Was there a mention of symptoms other than what may be related to the accident? Is there any indication of drug or alcohol usage that may have contributed to the loss? Is there any indication of pre-existing conditions?
4. MEDICAL TREATMENT PATTERNS

How soon did treatment begin? Were there gaps in treatment? Was treatment provided on evenings and/or weekends? Were you able to verify treating physician office hours?
5. PROVIDER TYPE

Was the claimant seen by a chiropractor or medical doctor? If the latter, then what was his or her specialty such as neurology, orthopedics, and the like? What are the medical professional's credentials? Is his or her license current? Are there any prior or pending disciplinary actions with the current state or in prior states? Can the claimant describe the doctor, medical facility, staff and provide directions from their home and/or work to the facility?
6. MEDICAL COSTS, DURATION & FREQUENCY OF TREATMENT

When did treatment start? How long did it last? Was it active or passive? Was it longer than an anticipated expected recovery date among the general population for a similar complaint? Was a bill review tool used to price medical bills based upon proper jurisdictional benchmarks? Were there deceptive billing practices such as upcoding, unbundling or modifier abuse?
7. IME OBJECTIVITY

Were there objective findings such as an x-ray, MRI or CT scan? Were the records and films obtained and reviewed by an independent medical expert? Was there any evidence of trauma or were the objective findings pre-existing?
8. PRESCRIPTIONS

Pain management… Did the doctor prescribe medication to ease the complaints of pain? If so, then what type (analgesics, prescriptions, injections)? Was the use excessive? Were opioids involved?
9. MEDICAL BILL REDUCTIONS
This can be a profit center for plaintiffs who can run up significant bills to use as leverage for a bigger settlement based upon multipliers, an outdated and ineffective concept sometimes still used to calculate pain and suffering. But as soon as the claim is settled, the attorney will often call the provider and offer them pennies on the dollar to resolve the lien, further increasing the net settlement dollars. Taking this card away is a crucial step in the negotiation process. As part of the demand, attorneys need to be advised that all bills, including HCFA (Health Care Financing Administration) and UB (Uniform Billing) forms, need to be presented. They need to include diagnosis and CPT codes.
10. INDEX & PRIORS

Did the claimant have prior claims or injuries? There is a percentage of the population that will abuse the system in an attempt to get compensated for every malady. Adjusters need to do a detailed investigation, including seeking out prior providers, reviewing prior indexes, requesting medical authorizations and reviewing old claims. This can be time consuming, but then again so is panning for gold.
CLAIM MANAGEMENT SOLUTIONS
Need help obtaining these types of records or for information about additional claims management solutions?
REQUEST INFORMATION
Topics: Records Retrieval For Claims
Melanie Pita, Esq.
Melanie Pita is a licensed attorney and industry executive with more than 20 years of experience in the claims and litigation field. As a graduate of both Indiana University Bloomington and Drake University Law School, Melanie has extensive experience resolving significant legal, business and compliance issues in C-Suites, board rooms and courtrooms. Melanie's wide-ranging expertise includes litigation, insurance defense, claims management, medical malpractice, data privacy and security, HIPAA, SOC, electronic medical records, HITECH, healthcare compliance, contract negotiation, marketing, scrum/agile product development, and project management. Melanie currently serves as Chief Legal Officer for Ontellus, where she leads the in-house legal and product strategy teams.