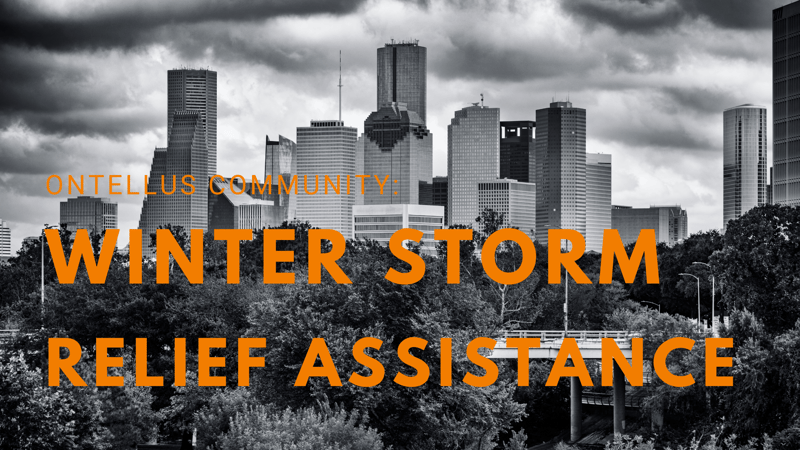 Across the country, Ontellus has given back to its communities; participating in local charity events, fundraisers and sponsorships are just a few of the ways we've been striving to make a positive impact. Recently, one of the most catastrophic winter storm disasters in Texas' history hit "close to home" in the Houston area – where both our corporate headquarters and the majority of our teams are located.
In addition to losing power and water – many of us for multiple days – several our team members experienced costly damage to their homes as a result of frozen pipes bursting and causing major structural damage. Within just hours of the storm's onset, it became immediately apparent that many Ontellus employees and families would be in need of assistance.
With so many colleagues affected by this catastrophe, Ontellus' leadership team immediately rose to action. During and after the storm, many Ontellus employees nationwide reached out to Human Resources – expressing interest in helping Houston team members who were negatively impacted and asking how they could help.
As a result, Ontellus opened a GoFundMe for voluntary monetary donations as the quickest and most effective way to help support those most impacted within the company. A message was sent out to the entire organization on behalf of Darren Klauser, CEO, who said "Our hearts go out to all of the employees affected by this tragedy. Ontellus is setting up a GoFundMe account to assist those in need if you wish to make a donation. Ontellus will also contribute to the fund."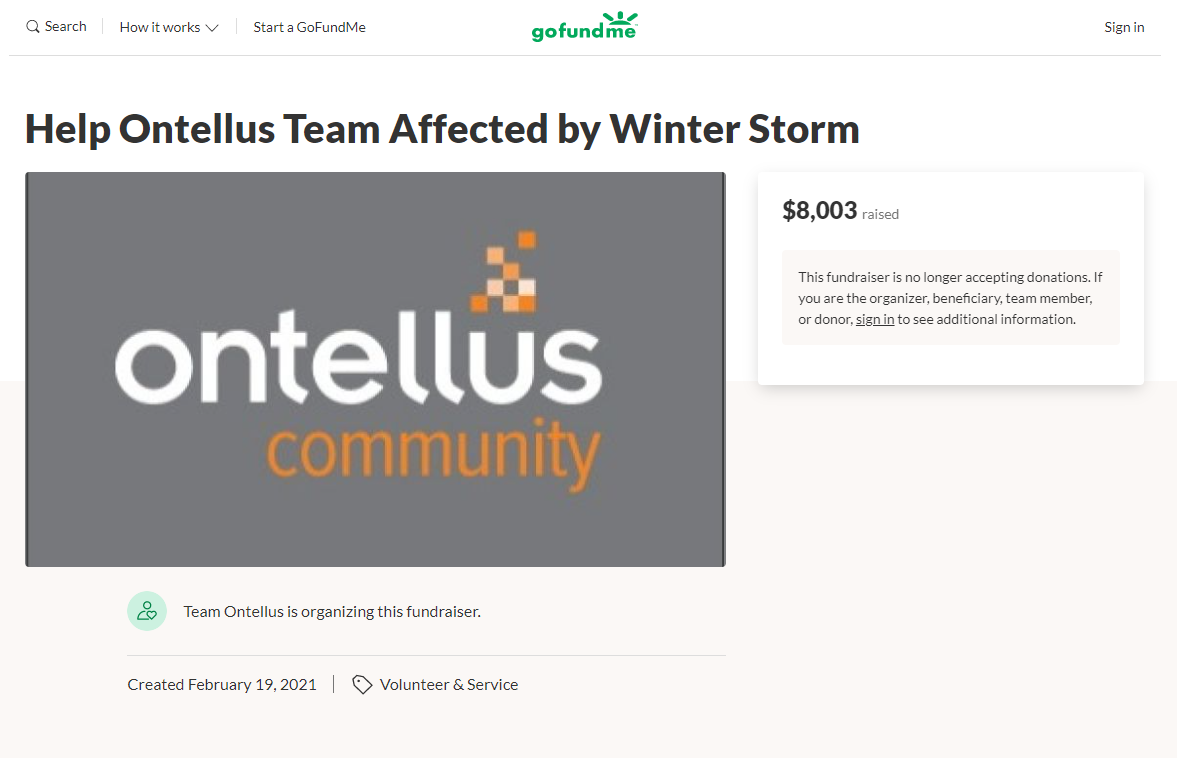 In just 5 days, Ontellus was able to raise $8,003 with employee contributions before closing out the fundraiser and was able to provide relief to 15 families! Ontellus also made an organizational donation to the fundraiser.
One employee shared that their family was without power for three days and could not find firewood to keep warm. Neighbors' burst pipes flooded their bathroom and dining area, displacing them until the repairs could be made. In response to Ontellus' donation, the employee expressed: "I am more than grateful and appreciative – I'm actually kind of lost for words. This was very unexpected; you all don't know how much this really means to me and my family. From the bottom of my family's heart, thank you so much. 😊 "

Another employee was financially impacted by the storm, sharing they were not able to get to work and they had no hot water or power at home. After receiving the surprise financial support, the employee shared: "Thank you so much from the bottom of my heart….I am so glad to work for a company that cares about their employees."

One employee and their family took advantage of community resources by showering at a local gym after pipes burst in their home. Even still, the family lost all of their food by the time power was regained. In response to the contribution from Ontellus, the employee replied: "Oh my goodness thank you so much. That will be so helpful. I really appreciate it."

One employee's health was at risk and sought shelter elsewhere due to severe damage in their home. In response to the donation from Ontellus employees, the employee expressed: "I am so thankful and grateful for the company and my co-worker assistance. Truly appreciated."
Sr. Vice President of Human Resources, Lori Neal, stated "Giving back to the Ontellus community, is inherent in the company's culture. Ontellus greatly values supporting our community and our employees. We are proud to stand together during challenging times and get through it together as one."
Ontellus is beyond proud of its employees who came together to help the Ontellus family members negatively impacted the most get back on their feet. "While Ontellus employs 700+ people across several offices nationwide, we are all ONE Ontellus. We are family," shared Darren Klauser.
Ontellus' next community effort is writing letters to our active, reserve, and veteran military in support of A Million Thanks.
Multiple Ontellus locations are joining forces to show appreciation and support for our military, past, and present. Watch for more Ontellus community involvement in the future!
Topics: Ontellus Community